Project Engineer – Financial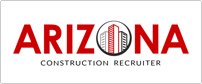 Arizona Construction Recruiter is a 2nd-generation full-service permanent placement recruiting firm serving general contractors, large sub contracting firms, and national hospital builders.
Client projects include: Commercial | Mixed-Use | Office | Power | Sports Complex | Tenant Improvement | Transportation and Design | Urban Infill | Airports | Aviation | Hospitals
We welcome military veterans with construction background!
Candidate relocation assistance is available.
Description
Seeking Project Engineer:
Assist Financial PM in administration of financial project controls. Maintain cost control in Vista. Manage Owner and subcontractor billings/ AR+AP, including delegation to work areas.
Here's a little about the company...
- They've been around since 1937.
- $4B in annual revenue.
- They are employee-owned and arguably have one of the best ownership programs out there because everyone who works for them for over a year has a chance to earn major stock dividends.
This is an organization that truly values and appreciates its employees. Here are some examples of how they demonstrate that:
- Industry leading benefits,
- Does the little things to show it values its employees,
- Invest in on-site training and off-site training, and
-  Will help you follow a path to benefit your career.
They are one of those rare giant companies that gives a damn about their people.
In this role as PE you'll join the team with some of the smartest people in construction. Most of them have been there more than 10 years.
We are hiring for a massive resume building project!
This is permanent position.
.05